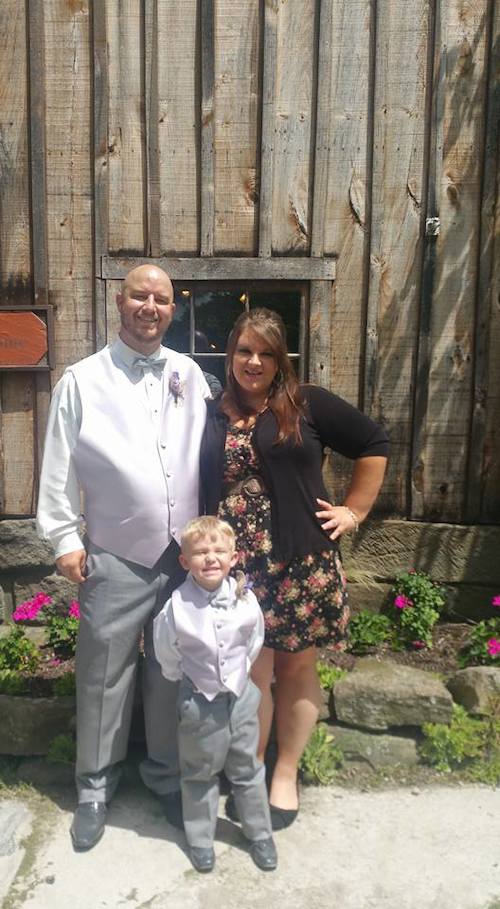 Date of Marriage : 05/15/2010
Did you meet before, during, or after your time at Walsh?: Before
Where did you meet?: High School
How many children/pets?: One 5 year old son, and one on the way. Also an English Bulldog named Butch.
Share Your Story :
"My husband and I met in High School, we both attended Strasburg High school. When he graduated in 2003 and began attending Walsh University, when I graduated in 2006 I enrolled at Walsh as well. We rode to school together everyday and even tried to schedule our classes at the same times so we could have a lunch break together. He graduated from Walsh in 2008 with a degree in Communications, I followed by graduating in May of 2010, exactly one week before our wedding! We now have a 5 year old son named Owen, a baby due June 5th, 2017, and a 1 year old English Bulldog named Butch."
The Proposal:
"My husband and I are huge Disney fans, we took a trip to Disney shortly after high school and loved it. I found out after the proposal that my husband had actually wanted to return to Disney to propose there, but we were unable to afford the trip. On our anniversary he took me to a nice dinner at Longhorn Steakhouse (on the Strip) and handed me a photo book. The book was full of pictures from our previous trip to Disney and inside the sleeve of the last page was my ring!"
Where are you now?:
"Today we live in Beach City, and are both currently working in Strasburg. I am working part time with my dad at the Napa Auto Parts store (looking for a job in teaching) and my husband is working at Kleen Test Products as a chemical compounder."