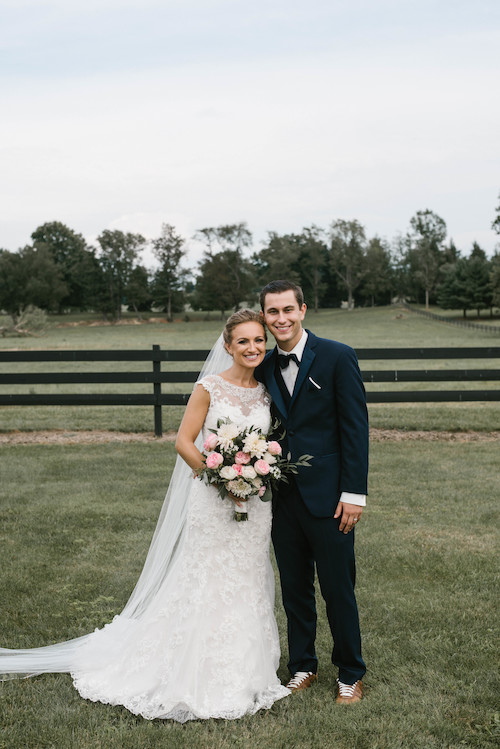 Date of Marriage: 07/22/2017
Did you meet before, during, or after your time at Walsh?: During
Where did you meet?: In the dining center
How many children/pets?: 1 happy pup- Zeke
How They Met :
"Brandon and I met freshman year at Walsh. My roommate had a high school friend who was friends with Brandon. Through a string of mutual friends, we ended up sitting down to dinner one night at the same table. That night started what would be a great friendship. By the end of our first semester, my roommate and I and Brandon and his best friend had all become best friends! As the friendship continued, Brandon and I began dating. We dated all four years of our college experience. While at Walsh we had great adventures together, including studying abroad together in Italy our Sophomore year."
The Proposal:
"Oh what a proposal! What a wonderful and surprising proposal! It was September 11, 2015. I was in my first year of teaching and Brandon had accepted his first job. I was trying to make it through a Friday before getting ready to head down to my parent's house for the weekend. The day was almost over all I just had one more team meeting to attend. The meeting was over our new math curriculum. My principal had come in to the meeting because he wanted to see the math tutorial. He pressed play, but a math tutorial doesn't pop up. Instead a picture of me came up, then pictures started playing of Brandon and I together. I was in shock and so confused! Next thing I know my superintendent was in room telling me to come with him. As he walked me to my classroom, I couldn't process what was going on. I opened my door and the most beautiful hydrangeas were in vases, all my students were holding balloons that said "Will You Marry Me?" and Brandon was standing in the middle of my classroom! He proceeded to get down on one knee and asked me to marry him! It was the most special and amazing proposal! He thought of everything to make it perfect. He even made sure my students had a special treat to go home with (personalized M&M's) to remember the day- so sweet!
As something extra, when Brandon contacted my principal to set up the proposal my principal contacted the local newspaper. A reporter was there and captured everything. Our proposal made front page local news! To this day, I still have students come up and ask me to tell Brandon thanks for making them famous!"
Where Are They Now?:
"Brandon and I are currently living in Perry township with our cuddly pup. We have been married for just over six months. Brandon is working at Smuckers and is taking classes at Walsh to earn his MBA. I am in my third year of teaching 1st grade at Sandy Valley."