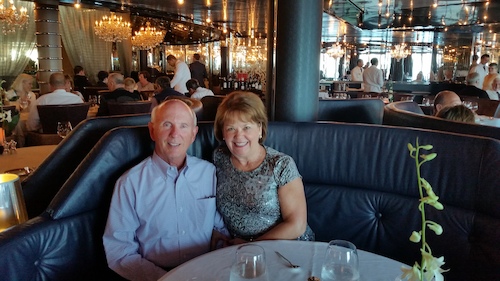 Date of Marriage : 12/26/1975
Did you meet before, during, or after your time at Walsh?: During
Where did you meet?: We met in the snack bar. Since Brian lived in the dorm and I was a"townie", he would walk me to my car.
How many children/pets?: 2 children and 2 granddaughers
Share Your Story :
Our first date came about because Vince Gribbon asked me if I was going to homecoming. I said no because no one had asked me. Vince said that he would take me but Brian said he was going to ask me. Vince said go with the "kid" (Brian). You'll have more fun with him! And I've had over 45 years of fun with Brian!
The Proposal:
We met in 1970. I was a sophomore and Brian was a junior. We dated 5 years before he asked me to marry him on March 21st. while we were at London's Candy Shop on West Tusc. in Canton. We were married on December 26, 1975 at St. Joan of Arc in Canton.
Where are you now?:
We moved from the area in 1980 when Brian was transferred to Michigan and have lived in Michigan since then. We have two wonderful daughters, Megan (husband, Jim), 41, a pharmacist and Maureen, 38, a nurse. Our precious granddaughters are sisters and age 10 and 3. Brian retired as the CFO of a packaging company and I retired from teaching. We have been very blessed in our lives!