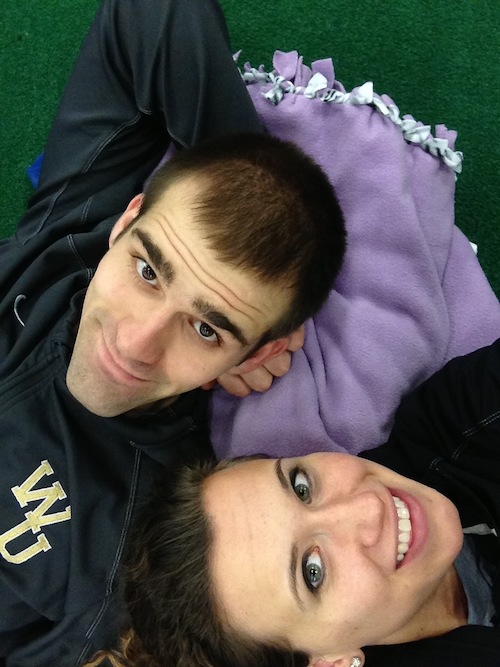 Date of Marriage: 07/22/2017
Did you meet before, during, or after your time at Walsh?: During
Where did you meet?: On the track team at Walsh
How many children/pets?: Our furry family consists of a cat named Lincoln and a labradoodle named Athena.
How They Met :
We both ran hurdles on the track and field team. He thought I was the nerdy girl from the Honors Program and I thought he was the guy who skipped indoor track season by faking an injury. I was shocked when one of his first texts to me once we exchanged numbers was to go on a real date and get dinner (not in the dining hall). I thought that was really mature of him. From then on we were always together. After graduating from Walsh, Colin went to Virginia Tech to get his PhD in plant pathology and genetics. I still had another 2 years at Walsh but we made the long distance relationship work.
The Proposal:
After graduating from Walsh I was accepted into the Ohio State Univeristy College of Veterinary Medicine program. So we continued the long distance relationship. We had been dating 4 years when Colin asked me to marry him. He drove us back to North Canton so that we could have dinner at the same exact restaurant we went on our first date at. The whole drive back to his family's lake house he was fumbling nervously with his phone as he drove. I knew something was up because he never texts and drives but here he was on his phone driving. He had also been wayyy too nice to me the last couple days. He will swear to you it was a surprise but I knew all along what was happening. When we got to the lake house he took me on the deck of the lake and asked me to marry him. Our friend from Walsh was hiding in the bushes to get the perfect shot. A year later we got married.
Where Are They Now?:
Colin currently works for the FDA Center for Veterinary Medicine as a biologist. I am a veterinarian and Molecular Fellow in the Comparative Biomedical Scientist Training Program with the NIH, partnered with Purdue University. We have a condo in beautiful Rockville, MD and make trips back to Ohio frequently to visit family and friends.