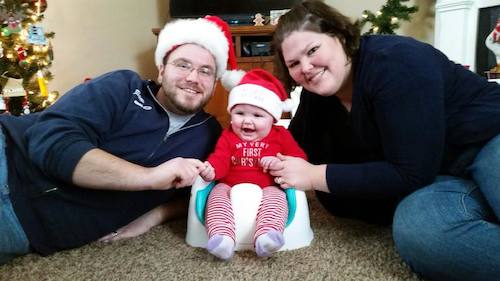 Date of Marriage: 07/09/2016
Did you meet before, during, or after your time at Walsh?: During
Where did you meet?: Agape Retreat
How many children/pets?: 1 - Sophia (6 months old)
How They Met :
"We were on the charter bus leaving for the Agape Retreat in PA. Eric was sitting across the aisle from me and my friends. I glanced over at him and he smiled at me. Once we got to the camp, we found out we were in small group together. We got a lot of time to talk and get to know each other over that weekend!! I then found out that we were in the Walsh Band together and participated in different events at the Chapel."
The Proposal:
"Eric and I were both in band when we were in high school. We enjoy going to band competitions and band shows! We went to New Philadelphia's band show for the evening. After the show, we were walking back to the car. Eric was walking really fast and wasn't talking a lot. He opened my door, but he got into the car. He opened the glove box and pulled out a box! He was praying the whole time we were driving to the band show that I would not open the glove box, which I usually would! He got down on one knee and asked me to marry him!"
Where Are They Now?:
"We live in New Philadelphia, Ohio and have a 6 month old daughter, Sophia"