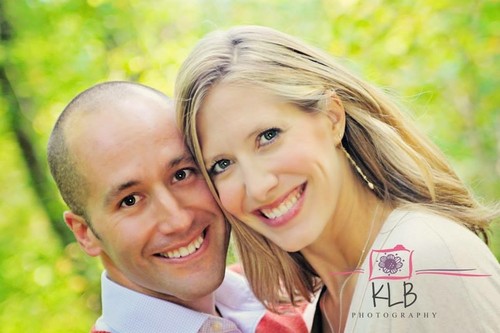 Date of Marriage: 06/18/2005
Did you meet before, during, or after your time at Walsh?: During
Where did you meet?: Off campus party
How many children/pets?: 4
How They Met:
"We had mutual friends but had never met. One of our friends invited a group of my friends to a party off campus - a "baseball party" since he and his friends played baseball. My friend pointed him out, so i went up to him and told him i could pour the "perfect beer" from the keg. I did. And we spent the entire night in a corner talking. The next weekend he had friends over to his off-campus apartment and told our mutual friend to invite my group of friends. We've been together ever since that night. Over 16 years ago."
The Proposal:
"I moved to Columbus after I graduated and he followed me a few months later. About a year after graduation, he set up an appointment for me at a local spa for some pampering. When I got home at dinnertime, he surprised me with a range of food from our years together. He actually made the trip up to Canton that day to get the ring from Art's Jewelers as well as food from Mings Chinese and Grinders, to name a few. After dinner he got down on one knee and proposed."
Where Are They Now?:
"We are living the typical suburban life just outside of Columbus. We have four kids, Jolie - 6, Jayne - 5, Jacoby - 2 and Jasper - 6 months."