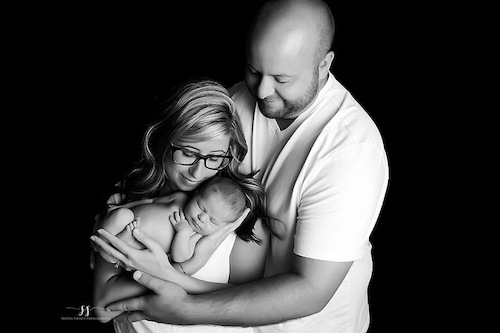 Date of Marriage: 09/06/2008
Did you meet before, during, or after your time at Walsh?: During
Where did you meet?: Ruby Tuesday's parking lot by Belden Village
How many children/pets?: 1 daughter (6 months old), 2 dogs 
How They Met: 
"Chris and I had mutual friends. He was the captain of the men's golf team and my roommate was the captain of the women's golf team. I also lived on the same floor as several guys on the men's golf team, all who quickly became good friends. We met at Ruby Tuesday's while celebrating one of the guy's 20th birthdays. Eventually, Chris moved on campus and directly across the hall from me - and you know the saying...the rest is history!"
The Proposal:
"Chris got down on one knee in front of both of our families the day that I graduated from Walsh. My old roommate and best friend (Christine Haver) knew he had the ring and "secretly" told me, so I was a nervous wreck all through graduation! Luckily he didn't make me wait too long, but I kept aggravating him by asking "what's wrong" on the drive home from the graduation ceremony because he was so unusually quiet! ? Little did he know I was just egging him on because I knew what was to happen in the following hours!"
Where Are They Now?: 
"We have now been happily settled in Charleston, SC for almost 7 years. We just recently celebrated our 8 year anniversary and welcomed a beautiful baby girl, Addison Parker, into the world! We couldn't be happier and are so thankful for our mutual friends and our time at Walsh!"