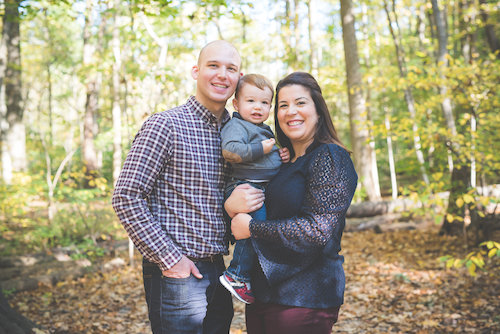 Date of Marriage: 10/24/2015
Did you meet before, during, or after your time at Walsh?: During
Where did you meet?: Timken Science Center
How many children/pets?: 1 son-Aiden
How They Met :
"We always would pass each other and never had a chance to talk to one another. A mutual friend finally introduced us our senior year when we both took Histology. After 1 week, we had exchanged numbers and had become inseparable. We both admitted later on that we knew right away we were meant to be with each other."
The Proposal:
"We had been dating for 4 years and it was September 19, 2014 and Matt had called to say he wanted to take me out to dinner at our favorite restaurant, The Chocolate Bar. We arrived and had dinner as usual and before they brought out dessert, Matt got down on one knee and asked me to be his wife. He arranged for all of our family to be at my house when we arrived home as a surprise to celebrate."
Where Are They Now?:
"Since October 2015, we have had our son, Aiden who is currently 18 months. We sold our first condo and bought a house in the Medina school district. I switched jobs and went from working as a middle school science teacher at Highland to a high school Physics and Environmental Science teacher at Medina High School. Matt received the promotion at work to become the Advisor of International Operations."