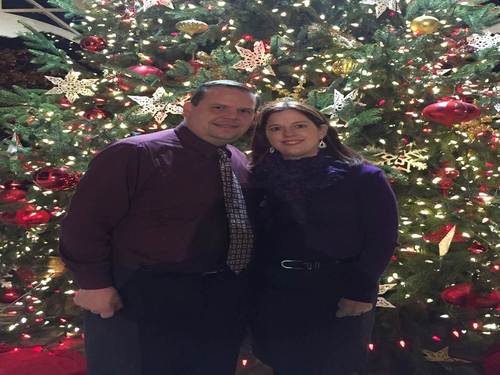 Date of Marriage: 10/09/1999
Did you meet before, during, or after your time at Walsh?: During
Where did you meet?: In freshman English class
How many children/pets?: 2 children (boy & girl) and 1 dog
How They Met:
"Although we met in freshman English class, we did not actually start dating until our junior year. The first time I saw her after summer break of our sophomore year was the first week of school in criminology class. I picked a seat right behind her. During the summer I had grown a very scraggly beard and she had cut her very long hair really short. Trying to make small talk before class started, I commented on how she had cut her hair and she responded in a very snide tone about how I had grown some hair. I tried to explain that I really liked her short hair, but she was defensive because I was apparently the first person to say that I liked it better than her long hair. I proceed to ask her out. Initially, she was not sure she liked me because I talked too much, but with a little persistence! She agreed to go out with me. On our first date we went for a walk around the park and walked to the top of McKinley Monument. We ate at Chili's and then went to a haunted house and barn. It was our first and only trip to a haunted house. Going there was brilliant, yet painful. The brilliant part was she wrapped her arms around me and would not let go because she was so scared, which was bad because she was also pushing me into every wall and pole that existed, and I think I still have the bruises to prove it. And that was the beginning of the rest of our lives together...

So many terrific memories together from Walsh College & University! Brother Charles St. James was our dear friend, served as a sponsor for Jennifer to be baptized and confirmed in the Catholic faith, and shared in our wedding day. At our graduation, Dr. George Duncan presented each of us with the top student award of excellence in each of our majors. Matthew married his first bride-Mrs. Dorothy Ling-in his intro to music class!"
The Proposal:
"Although I purchased the engagement ring during our senior year at Walsh, I did not actually propose until about a month after graduation. As our first date was at the McKinley Monument, I took Jennifer back there on the day of our engagement. I challenged her to a race up the steps to the top of the monument. Luckily, I won and at the top I pulled the ring out of my pocket. The plan was to go to the back of the monument where there is a gazebo and ask her there, but it was under construction. Quickly I pulled her to the side and got down on one knee and asked if she would marry me. Through surprised and happy tears, she said yes. We were engaged for three years as we were both attending law school and were married in October of 1999...which was six years after our first date. "
Where Are They Now?:
"We have been married for over 16 years and have a 10 year old son and 6 year old daughter. We live in Medina, Ohio and are less than an hour from Canton and Walsh University. Although Walsh University is now double the size and ever changing, we enjoy returning to Walsh and reminiscing about our years there and where our life together began."