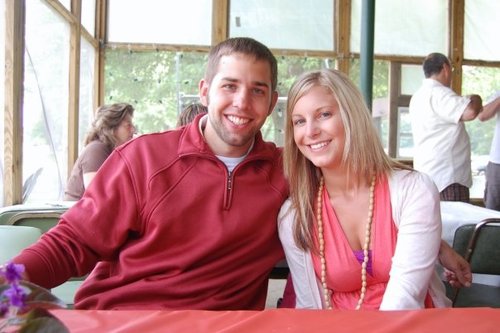 Date of Marriage: 07/03/2010
Did you meet before, during, or after your time at Walsh?: During
Where did you meet?: Walsh University - Alexis Hall!
How many children/pets?: Matthew (1 year old), Archie the dog, and Ralph the cat!
How They Met:
Matt and I met in the summer of 2005 when I attended my freshman orientation. At the time, he was a sophomore who had just become a resident assistant and was helping coordinate the orientation. I was a nervous incoming freshman and he was an RA who was exhausted from giving tours and putting on skits all day. We only met briefly and both agreed years down the road that we had found the other a little annoying! A few months later when the fall semester began, I moved into the 1st floor of girls wing of Alexis Hall and low and behold, Matt was the RA on 1st floor boys wing. We bumped into each other often and eventually began chatting about Matt's involvement in campus ministry as a musician since I was interested in singing at mass. Though it was a little scandalous at the time since he was an RA on my floor, we began dating only a few weeks into my freshman year and have been together ever since. We were both members of the Honor's Program, RA's for the remainder of our time at Walsh, and held work study positions at the Barrette Center for special events. Some of the best memories were the hours we spent together at Our Lady of Perpetual Help, sharing our love of music and playing/singing for mass with the Chavez brothers and Msgr. Lew Gaetano. We traveled together on fall breaks and spring breaks, shared nearly every meal in the cafeteria, played intramural sports, and had fun running a student campaign together which Matt eventually won and served as student body president his senior year. Matt graduated with a biology degree in 2008 and began medical school at Northeast Ohio Medical University. I graduated the following year with a bachelors in Corporate Communications. We were married July 3, 2010 surrounded by family and many Walsh friends in the place where it all began- at Our Lady of Perpetual Help Chapel. Mass was celebrated by Msgr Gaetano and the Chavez brothers provided the music, with a cameo by both Matt and I. Our reception was held in the Barrette Center, where we had spent so many hours working, studying, and eating chicken tenders once the Grille had opened! So many factors played into both of us ending up at Walsh University when we did and looking back we know it was meant to be! We are grateful for fate allowing us to find each other when we did and appreciate the education we received; Walsh University certainly played a large role in not only our personal happiness but in helping to develop us into prepared servant leaders as we set out in our careers. We have already come so far and can't wait to see what the next chapter of life brings!
The Proposal:
Matt proposed on the beach in July 2008 while on vacation in Hilton Head, SC.
Where Are They Now?:
From the first day we met, it was always Matt's dream to live in North Carolina. After he graduated from Northeast Ohio Medical University, he matched in an OBGYN residency at Carolinas HealthCare System in Charlotte, NC and we have resided here since 2012. My background is in nonprofit fundraising and I also worked at Carolinas HealthCare System in Community Benefit, helping to lead the system's corporate social responsibility programs. In 2016, we relocated to Columbus, OH where Matt completed his Maternal Fetal Medicine fellowship at the Ohio State University Wexner Medical Center. I worked at the Ohio State University Alumni Association as a development officer and went to school full time, earning my Masters in Public Policy and Nonprofit Management in 2018. The following year, we relocated to Charleston, SC, just in time for our first child, Matthew Augustine Finneran (aka Little Matthew) to be born on October 16, 2019. Matt is an assistant professor in the division of Maternal Fetal Medicine at the Medical University of South Carolina and I am the Director of Advancement at Bishop England High School. We love traveling, good wine, and enjoying the South Carolina sunshine!