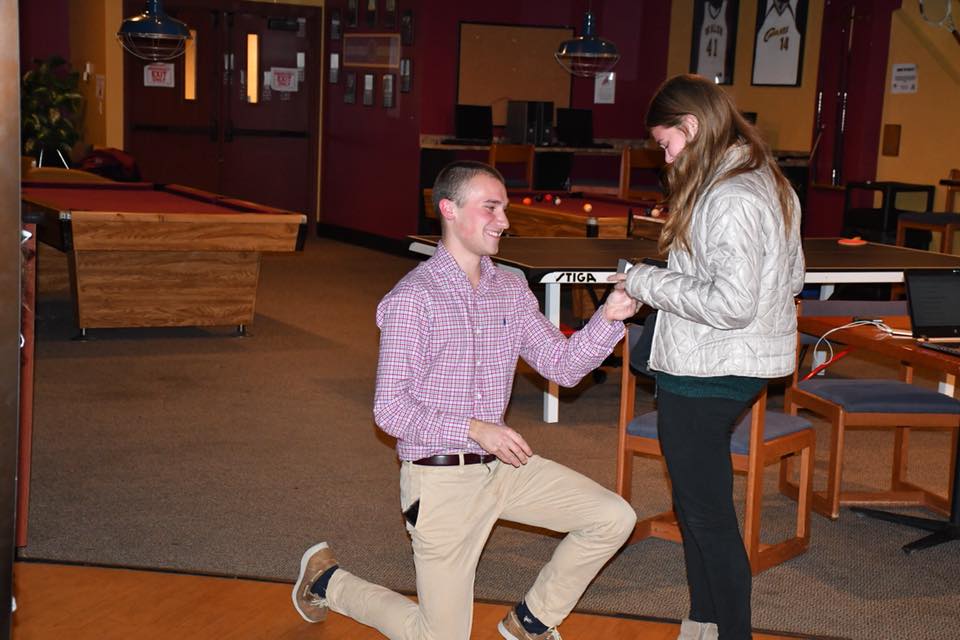 Date of Marriage : 08/06/2020
Did you meet before, during, or after your time at Walsh?: During
Where did you meet?: Honors Program at Walsh

Share Your Story :
We lived on the same floor but at opposite ends, so we didn't meet until our first class together (Honors). Nick wasn't registered for the class so he didn't start the class until a few weeks in. We didn't actually officially meet each other until around October of our freshman year at Walsh when we would spend hours in the study room on third floor Lemmon. He started helping me with biology and we quickly became best friends. We went on a first date over winter break when he drove two hours to take me on our first date (first date for both of us!). I was hesitant to start dating him because I didn't want to lose him as a friend if it didn't work, and decided I wanted to just stay friends. But within a few weeks I knew that I did want to give it a chance. I knew I was meant to be with him when we were sitting at Praise and Worship led by PJ Chavez and I was praying for guidance. When we started going on dates again, he started coming to visit me in the Game Room on campus where I had work study. He'd bring me mac n cheese for dinner and we would play pool and ping pong. We officially started dating in February 2016 in the third floor Lemmon study hall where we met. I also started running when we started dating because he was on the cross country team, and I decided to join the team in 2017! Now we run together all the time.
The Proposal:
Nick proposed at Walsh!!! I wasn't expecting it at all when it happened - I figured it would be after I graduated just a month later. I was at dinner with the cross country team when he took his Grandmother's ring to get redone. He planned to propose 5 days after that, but I started getting sick a few days after a cross country meet. He called it off until I was feeling better, but then I was better by the day he had planned for. So he scrambled to get everything together. He had his sister (who goes to Walsh) go to dinner with me so he could get everything in order. He bought champagne, had my sister come to photograph and bring a cake, and had my friend Caitlyn Hadley lure me to the Game Room (where she worked at because of me!). Caitlyn said she needed my help with APA formatting for a nursing paper since I tutored her in English. She told me that Nick was "helping her with the content" but he wasn't sure how to format it. So when I got back from dinner, I went to the Game Room to help her. As soon as I walked in I noticed that Nick was dressed up. I started asking why he was dressed nice, but then realized what was happening. He got down on one knee, and with my dinner leftovers in my hand, he asked me to marry him. Then I realized he did it in the Game Room because it was where he first asked me out. After I realized this, a bunch of our friends from the cross country team popped out from behind the stage curtain to surprise me! It was so perfect and we spent the rest of the evening eating cake and celebrating with our sisters and some of our best friends.
Where are you now?:
We are married! We had to postpone our June 5 wedding because of the pandemic to August 6 (his grandparents' anniversary!). But we spent June 5 at the Winking Lizard by Walsh, one of our favorite North Canton dinner spots. The weather was actually horrible that day and was a torrential downpour right when we would've been taking pictures. But August 6 turned out to be the perfect wedding weather, and we're honestly so thankful for the switch in dates. Some of our closest friends from Walsh were in our wedding, and PJ Chavez did our ceremony music which we always enjoyed at Walsh mass every Sunday. We are living in Stow near where I grew up and Nick is working at Summa as a nurse. I'm still at the job I've been at since I graduated.