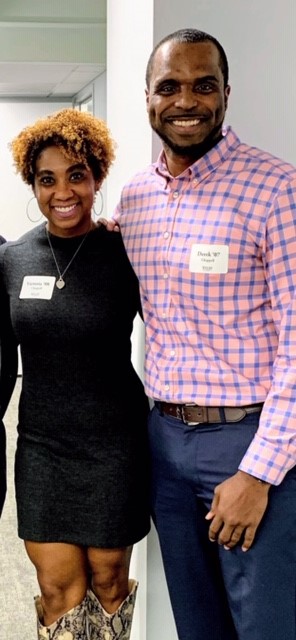 Date of Marriage: 03/27/2010
Did you meet before, during, or after your time at Walsh?: Before
Where did you meet?: What's formerly known as the Gund Arena
How many children/pets?: 3 children, 2 Girls, 1 Boy: Jaidn 13, Kennedi-Rian 9, Trei-Ashton 5
How They Met:
In 2002, Lutheran High School East, the high school Derek graduated, had just joined our counties sports conference. I was a Varsity Basketball Cheerleader for Oberlin Senior High School. We always played our 1st or 2nd game of the season at what was known as The Gund Arena. This particular year, 2002, Oberlin High school would play against Lutheran High School East. Upon the conclusion of our game, both schools would stay and watch the Cleveland Cavaliers basketball game that evening. While waiting for the game, everyone was escorted into the lobby. Our team decided to head over to tower city until the game started. While exiting, Derek approached me and asked if we would be staying for the game. I let him know that we would, and that we were heading over to the mall until it was time for the game, to which he replied, "When you get back, I'll be waiting on you". Once I returned, we met, and exchanged numbers, and talked non-stop. Our paths would later lead us by chance to Walsh University, where our future truly began.
The Proposal:
Growing up, I always watched and dreamed of seeing the ball drop in Times Square , New York City. Heading into 2010, Derek completely surprised me and flew me to New York December 30, 2009. The entire time, I thought I would be going to Georgia to watch the peach drop in Downtown Atlanta. I literally found out once boarding the plane where we were actually going. Boarding the plane in tears, I had no idea what the plan was. December 31, 2009, we headed into Times Square, 7 hours before the ball dropped to claim our place in line for the night. The night turned from sleet, to rain, to snow, but I refused to leave the square. Once the countdown began, Derek began a speech that I was nearly oblivious to, as I was overwhelmed with happiness and tears watching the ball drop right in front of me. By the time the countdown dropped to 3, Derek dropped to one knee, pulled out a ring, and asked me to marry him! Two months later, March 27th, we married!
Where Are They Now?:
Today, we are currently in Maryland, by way of several states, as we have lived an exciting life of living in different states. We have 3 Children, 2 Girls, Jaidn, 13 and Kennedi-Rian, 9, and our son, Trei-Ashton, 5. Victoria is a REALTOR® with EXIT Realty, and an Outreach Cooridinator, advocating for those apart of our Homeless population. She is currently working on creating an official Non-Profit, to expand her impact Nationwide. Derek, is currently in Executive Management, running divisions in the fuel sales, supply chain, and logistics industry. This upcoming March, we will celebrate 10 years of Marriage, and are eager to see where 2020 takes us!