WU ALERT
The Walsh University Emergency Alert System can deliver one prerecorded message to up to six phone numbers, two email addresses, and one text message per student or staff member. If you have provided your home, residence hall, cell and/or work telephone numbers, you should receive a voice message as well as an email containing a link to listen to the message. This system will be used only in the case of an emergency such as school closures, natural disasters or imminent threats.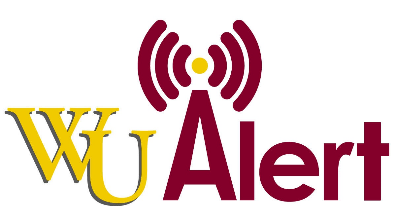 WU Alert Testing
Walsh University will conduct a campus-wide test of its emergency notification during the second week of each academic.  During the test, our campus notification system will send a simultaneous alert to individuals through landline phones, cellular phones, text messaging and email.  Although the message will advise that it is a TEST, individuals should provide advance notice to anyone who may receive the message instead of the intended recipient, such as a family member or roommate. The message will begin with "This is a test of the Walsh University Emergency Alert System."
University Contact Information
We cannot stress enough how important it is that we have accurate and current contact information on file for every member of Cav Nation.  Please take a moment to review and update your phone numbers and email addresses through the Walsh University Cavalier Center. 
walsh.edu > Select Cavalier Center > select "Personal Information"
To update phone numbers, select > Update Demographic Instructions
If you have issues accessing the Cavalier Center, please contact the Student Service Center at (330) 490-7367.
Notification Delivery
When you receive a call from the emergency alert system to your home or cell phone, your caller ID will display

"

1 (330) 490-7085".
For cell phones, you will receive a text message from 87844 or 89361.  When you receive the initial test call, we encourage you to save the number under the contact name WUAlert for future reference.
For emails, the Email ID will begin with "Walsh University Emergency Alert".
If you have any questions, please contact Ron Perdue, Chief of Campus Police at rperdue@walsh.edu. 
Timely Warning Policy
To ensure compliance with the Timely Warning requirements of the Jeanne Clery Act and to provide Walsh University, including faculty, staff, and students with timely information about crimes. Walsh University Timely Warning Policy is intended to aid in the prevention of crimes posing a serious or continuing threat to the community.
In accordance with the Clery Act, Walsh University will keep the campus community informed by providing timely warning of crimes occurring on campus property and represent a serious or continued threat to students and employees, once reported to Walsh University Police Department, as specified in the Clery Act – 20 USC 1092.
Active Shooter Preparedness
Walsh University encourages all students, faculty, staff, and campus visitors to be aware of their surroundings at all times. This video training provided by the Department of Homeland Security is intended to help prepare you in the event of an active shooter or similar emergency situation on campus.
RUN HIDE FIGHT
Emergency Closing Information
It is important to remember that universities only close for extreme conditions and circumstances. Walsh University usually remains open when area high schools and elementary schools close, as our population is comprised of adults, with a substantial portion residing on campus. In the event of inclement weather and the university remains open, commuter students are requested to use their own judgment as to the safety of the highways in their specific area. Walsh faculty will work with students who have to miss a class for reasons related to unsafe driving conditions.
On the rare occasion when the University is forced to cancel all classes or close, every attempt is made to announce the decision by 6 a.m. for day classes and events and 3:30 p.m. for evening classes and events.
If a student's contact information is up to date he/she should receive a text message indicating that classes are canceled. Students also receive an email on their Walsh account if classes are canceled. In addition, Walsh University contacts common radio and television outlets to broadcast closing information.