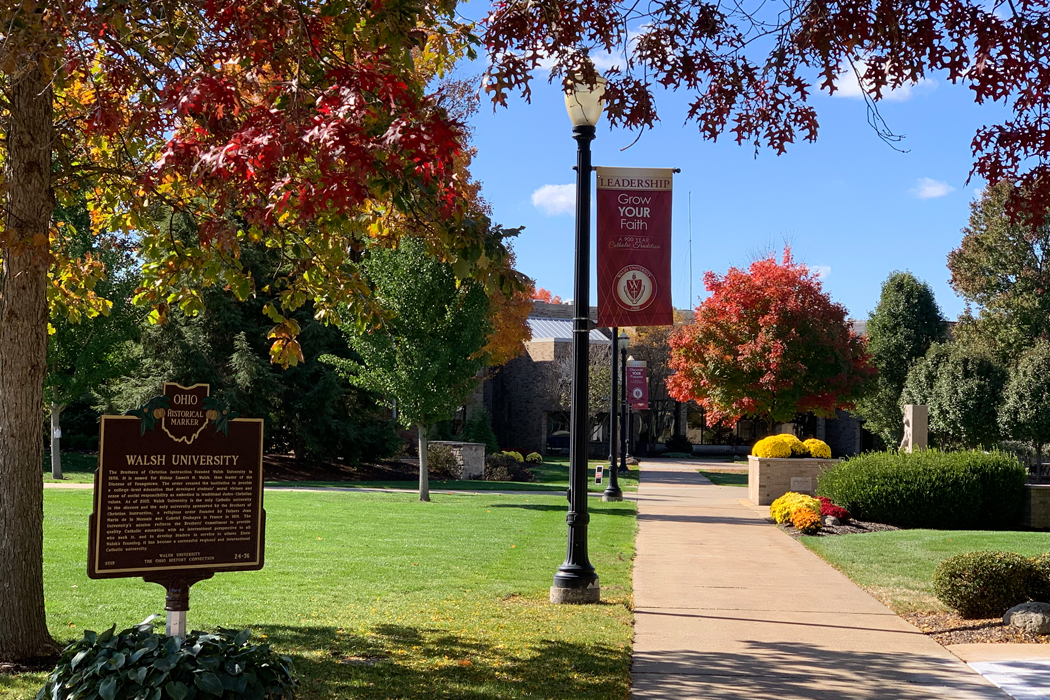 In the face of uncertainty of COVID-19, Walsh University prepared for the 2020-2021 academic year by announcing bold measures to meet its students' needs including financial incentives, new majors, a more flexible eight-week term and a designated cross-campus Task Force to concentrate on plans moving forward and safety procedures related to COVID-19.
"We are building our nation's next generation of leaders. Because of this, education must continue.  It must be flexible, and it must evolve to meet the challenges of the day," said Walsh University President Dr. Tim Collins. "At Walsh University, we are committed to leading the way in planning for an uncertain future as we search for new ways to help support our students as they fulfill their academic dreams."
New Majors
Following an extensive review of academic programs conducted over the past three years, Walsh University is announcing ten new undergraduate academic programs to augment the existing academic portfolio of offerings available to students. These new majors will be available to both traditional and Digital Campus students in a hybrid of in-person and online formats.  In partnership with the Lower Cost Models for Independent Colleges Consortium (LCMC), Walsh University is the consortium's only Northeast Ohio member.  The LCMC was created with support from the Davis Educational Foundation, the Bill & Melinda Gates Foundation.
Ten New Majors Include:
Bachelor of Arts (BA) Public Health
Bachelor of Science (BS) Actuarial Science
BS Data Analytics
BS Game Development
BS Information Technology
BS Web Design
Bachelor of Business Administration (BBA) Supply Chain Management
BBA eSports and Gaming Management
BBA Professional Sales
BBA Human Resources Management
Click here for a current list of majors.
Beginning in Fall 2020, Walsh University transitioned from 16-week to eight-week terms, which will provide more flexibility for students to earn their college degree at their preferred pace, pursue internships, employment and other learning activities as they complete their degrees. Over the length of the semester, students will take a full load of courses, but will do so through two consecutive terms, rather than simultaneously. Research indicates that shorter course terms support student success and improve overall satisfaction with the college experience. Shorter terms with less classes are more immersive and provide an opportunity for students to focus on their coursework more. Students who take all six terms in a year could graduate in less than three years. The transition will also provide students more flexibility to quickly move between online or in-class based on their preference. For more information, click here.
Four-Year Guarantee and Maroon & Gold Career Promise
Walsh University's Four-Year Graduation Guarantee and Tuition Promise is our commitment to help you graduate on time and on budget. Not only does this allow you to pursue your life goals and start earning a return on your investment sooner, it also keeps you on track to meet graduation requirements during your time at Walsh. All you have to do is commit to Four-Year Graduation Guarantee during the first month of your fall semester, follow the steps to success, and you'll graduate in four years at the same tuition rate you started at. Your tuition will be locked for all four years. Guaranteed. 
If you meet all outlined responsibilities, but don't meet the requirements to graduate in four years,
Walsh University will cover the tuition cost of your remaining coursework for up to two semesters, or you can have the option to take two graduate-level courses on us.
Walsh University believes in the value of the degrees our students earn. To take that
one step further, we've designed the Maroon and Gold Career Promise. This is our
100% commitment to ensure that our students will find an entry-level position or
higher, be enrolled in graduate school, or gain a service year position within 6 months
of graduation. Visit our Career Center webpage for complete details. 
For admissions related questions, please contact Rebecca Coneglio at 330-490-7190 or rconeglio@walsh.edu.