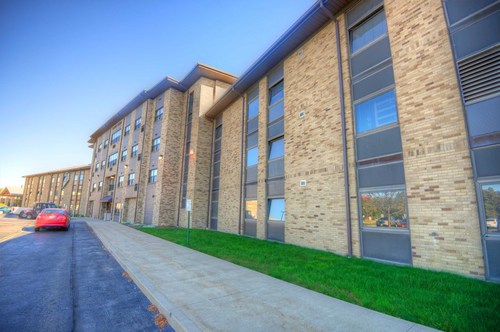 Menard Hall
Menard Hall was Walsh University's first residence hall facility and was named after Brother Patrick Menard.
Consisting of first, second, and third year traditional-aged college students, Menard Hall provides regular engagement amongst students with varied college experiences. 
All Walsh residence halls, including Menard Hall, are accessed by secure swipe entry. Only students living in Menard/Betzler will be able to access the front doors with their student ID card. Non-residents, including guests, are required to be escorted at all times within the building by their student host.
Number of Occupants per Room: 2
Each room Includes:
Built-in closets
Loftable/bunkable beds
Extra long twin mattresses
Two dressers
Two desks
Two chairs
Built-in blinds
Vanity sink
Access to private-shared Jack and Jill bathroom
**Conveniences such as a microwave and mini-fridge must be provided by you and your roommate.
Layout: All rooms are 19' x 9' x 9'. View the Menard Hall Floor Plan.
Each room is ready for your personal touch! Furniture can be arranged however you choose.
Carpeted: No
Private bathroom: Yes (Jack and Jill style, shared between two bedrooms)
Co-ed: Yes (Single-gender by floor)
Meal Plan: Full meal plan required
Alcohol Permitted: No
Students living in Menard Hall will also enjoy:
High-speed internet with Wi-Fi
University phones at each main entrance
Quiet Study Rooms
Computer Lab
Community Laundry Room
Ice and Vending Machines
Campus life is a unique part of your college experience! Living in a residence hall offers students the opportunity to develop life skills and create life-long friends and memories.
View Menard Hall housing rates.