In honor of Nurses Appreciation Week, May 6-12, we asked Walsh University nursing alumni to send their "in the field" photos along with an optional reflection on how they're coping during the pandemic or what motivates them to keep going. Thank you to everyone who submitted photos and to all our healthcare workers!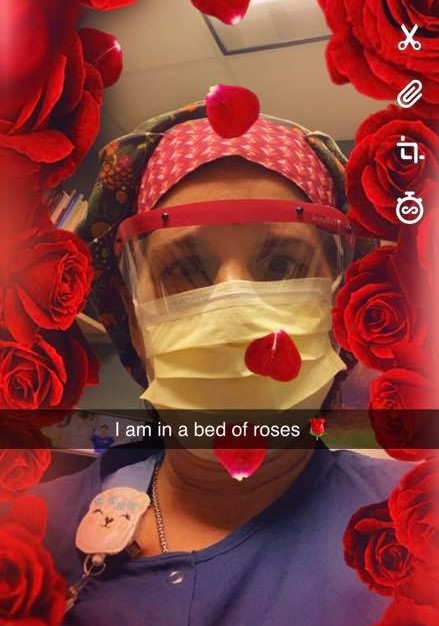 Shelley Bolognue-Sabistina '92
1992 Walsh Grad work at Akron Children's Pain Center
---

Mai-Linh DiDonato-Hanek '96
ADN class of 1996! I have been a dialysis RN for the last 15 years.
---

Kathleen Steel Ebert BSN '97
I have loved every minute of my career- starting with my amazing Walsh education! MS '13 MCCN. I have worked LTC, M\S , ED trauma for 10 , Clinical Education, Unit management, Magnet Program Director, and Now Director of Customer Experience for OhioHealth in Columbus. Thank you to all of my nursing peers and fellow Walsh alum for the amazing things you are doing!!!
---

Stephanie Steiner '97, '99
I'm alum from '97 (ADN) and '99 (BSN) and now current adjunct faculty in the acute care nurse practitioner program! I'm an NP in Akron Children's Hospital Burn Center and also currently am a flight nurse for UH Medevac.
---

Rachael Salvino Dhamija '01 ADN '02 BSN
Staying safe in Rainbow Babies and Children's Hospital of Cleveland 🌈 18 year NICU nurse
---

Emily (LaCava) Downing '04
MSN, CRNA; Walsh University BSN 2004
---

Jessica Mattews '05
BSN class of 2005. FNP class of 2015.
---

Tracy Popa '05, '14
A nurse, by simple definition, is someone who cares for sick people, or someone who provides medical assistance. However, in our ever-changing world, we know that a nurse is much more than this! I graduated from Walsh University in 2005 with my BSN. I returned several years later to complete my DNP in 2014. I have practiced nursing for more than fifteen years. My Walsh education and experience has prepared me, as much as it could, for what our country is now facing with the current pandemic. I am trying my hardest to demonstrate compassion, empathy and pay particular attention to detail. I am problem-solving and critically thinking as I implement care in the most difficult, high-acuity settings in an effort to deliver outstanding patient outcomes. I take pride and strive with intestinal fortitude to care for people in their times of need. I see nursing as more than a career or profession, but a true calling!
---


Andrea (Elsasser) Von Der Vellen '05
MSN, APRN-CNP, FNP-C, AGACNP-BC
---

Heidi Heckel Barnes '06
FQHC-RN BSN, class of 2006! Providing care for everyone!
---

David Garner '09
My name is David Garner and I am a Walsh graduate of 2009. Currently, I am working in the Surgical Intensive Care Unit at The Ohio State Wexner Medical Center for the past 8 years. Nurses are working around the clock caring for the most vulnerable and underserved patient populations. Happy nurses week to my fellow Walsh alums and stay healthy!
---

Samantha Plovock '09
I graduated in the Class of 2009 with my BSN. I work in the Cardiac Cath lab at Ahuja Medical Center and am currently helping out in the ICU since we can't do procedures at this time. Teamwork and laughter help us get through the day. I love taking my Pitbull pup on walks in the metro parks to relax and reconnect. She loves her walks too!
---

Kristin Temsic '09
My coworker Jade and I enjoying some yummy Girl Scout cookies that were donated by a local troop! My Mercy OR family and kind gestures such as these help us all to get through difficult situations like the current pandemic. We stay strong by working together! Kristin Temsic, RN, BSN, CNOR, Current FNP Student
---

Kendra Boyd '11 and Danielle Elias '11
Walsh Grads from the class of 2011 representing at Akron Children's! Kendra Boyd (left) Danielle Elias (right)
---

Erin Clark '12
I am honored to be working in the ICU during this time. It's a blessing to have the opportunity to provide love, compassion, and encouragement to those who are critically ill, especially now, when their family and friend's aren't permitted to visit. It brings me joy to care for my patients and be a source of comfort to their loved ones.
---

Jessica Davidson '12
My name is a Jessica Davidson. I am currently a nurse practitioner for Summa Health Systems in Neurocritical Care. These times are scary but we are making the best out of it by supporting each other everyday. In time like these I remember why I chose the field of nursing...strength in numbers and the chance to make the difference we wish to see in the world.
---

Kristen Rohlfs Ringstaff '13
BSN, RN, C-EFM graduated in 2013 from Walsh! Labor and Delivery nurse for 7 years and currently due in a couple weeks!
---

Mariette (Piermarini) Vitti BSN, RN-BC '13
Got married a few months after graduation and moved to NJ. Med-Surge nurse for 6 years, worked as a hospice transitions nurse for 6 months and then moved to Same Day Surgery after my second was born. Due to
Coronavirus they closed the Same Day Center for the time being and I was brought back to work the COVID units at my hospital in New Jersey.
---

Krista Zuppe '13
I graduated from Walsh in 2013 and started as a nurse at UH main campus in Cleveland. In 2017 I moved back to the Canton area with my husband and 2 kids and moved my career to Mercy Medical. I also began as a clinical instructor this year for Kent State - Stark. Working for Mercy during this time has been a blessing. I am thankful to continue the work I love doing. Stress is evident among many of my peers, but the community has been amazing helping us cope with everything by donating meals and snacks, sanitizers and other small gifts to each area of the hospital. My teammates are just that, teammates. Our teamwork grows stronger every day and I am so blessed to have them as a second family! The greatest motivation is seeing the difference that can be made, even in the smallest way, for each of my patients. My second motivation is my students. I feel they have shown me how dynamic nursing can be and how important is to be flexible. They adapted to an all online education and still barreled right through every obstacle in their way—the true meaning of nursing!
---

Jeff Balzano BSN, RN '14
Cleveland Clinic Main Campus. Currently helping with the surge in Detroit at Henry Ford Health MICU COVID unit
---

Joshua Barden '14
At Cleveland Clinic Akron General Medical Center, my unit cares for COVID positive patients. Amidst this pandemic, I would say that most of my colleagues and myself are handling the initial surge well. Many of our longstanding protocol changed, seemingly overnight, to combat the needs of this virology. Our numbers of unstable intubated patients have been increasing despite the rest of Ohio's overall decline. I wouldn't say we are fully coping with these admissions and increased frequency of deaths. I will say that our morale is consistent, and all of my cohort has worked together to come in extra and on our days off. Another interesting feature of this pandemic is the top-down communication of care has been better than ever. Doctors coordinating with anesthesiology, nursing working with respiratory therapists, across our unit the comradery could not be better. I will say a lot of the drive behind our motivation is that the patients are so unstable we are doing a lot more for them in the first initial weeks of treatment. Multiplied by extra staff and ability to provide a more patient one-to-one type centered care. We are just now seeing the fruits of our care, weeks later. Assuming everyone follows the CDC and community recommendations- our level of care could be maintained if another surge were to arise. Stay Safe Ohio!
---

Audrey Kreye '14
I am currently working the same job that I've had since I graduated from Walsh- I am in the float pool at Akron Children's Hospital! :)
---

Matthew Nichols '14
University Hospitals Portage Medical Center Cath Lab
---

Kaylyn '14
MetroHealth in Brecksville, OH in the ambulatory clinic.
---

Shelby Schlupp (Lawrence) '15
ICU at Genesis Healthcare System in Zanesville, Ohio.
---

Alyssa Anderson '16
My name is Alyssa Anderson. I graduated from Walsh in 2016 and have been working as a nurse at Cleveland Clinic Akron General ever since. I currently work in the medical/surgical intensive care unit which is our designated COVID unit. We've seen many COVID cases and it continues to grow every day. It's been quite an adjustment but it also has been very rewarding. It is wonderful to see nursing as a whole work together to accomplish so much! I have a picture of myself on the left and my coworker on the right who also graduated from Walsh in 2016. Her name is Emily LeBorgne. We also work with a number of other recent Walsh graduates but unfortunately we could not get a picture of everybody together, but their names are Emma Gainer, Kajal Patel, and Mara Zonfa.
---

Hallie Barczak '16
During this difficult time, I have never felt more proud to be a nurse. I'd be lying if I said it wasn't challenging, but the community has really stepped up. I have received food, hand lotion, clothes, homemade masks and headbands, and numerous other things. I currently work as a critical care transport nurse for Cleveland Clinic. I am so fortunate to work with a great team to help get through these difficult times. I go to work everyday knowing the risks, but there truly is no greater feeling than someone being grateful for your care. We are only going to come out of this stronger.
---

Brittany Bialota '16
Pictured left Breanna Tucker Long '16 (left) and Brittany Bialota '16 (right) are Aultman Hospital Labor and Delivery Nurses. Bringing new life into the world motivates us to keep going. It's easy to do when you work with some of the best nurses around. We are more than just friends we are like a family on our unit!
---

Jacey Martinis '16
Here is a photo of my husband (Paul Hoffman '13) and I volunteering for employee and visitor screenings at Ohio State Wexner Medical Center. He works in the Medical ICU and I work in the Neuro ICU.
---

Nathan Miller '16
CVICU RN, Class of 2016, BSN and back for more, MSN-FNP Class of '22.
---

Michelle Ragusa '16
COVID19 has greatly impacted foster youth and victims of child abuse and neglect. I have never been prouder to be a nurse as we implement creative solutions to keep kids safe now and in the future! Personally, this has meant networking with nurses in similar roles across the country and reaching out to caseworkers about specific children in county custody. (Pictured socially distancing with fellow Walsh alum Monica '18.) - BSN Registered Nurse, Foster Care Clinic/Consultation Service, Cincinnati Children's Hospital
---

Gabrielle Canterbury '17, '18
I work at Cleveland Clinic Akron General on the Neuroscience floor. When the Coronavirus pandemic began, my floor became the first in the hospital to become a COVID-19 cohort floor for rule out and positive cases, which meant EVERYBODY that came to the floor was in isolation. Mask, gown, eyewear, and gloves every time we went into a patient's room. At first it was very scary and there was a lot of unknowns. Now it's kind of like a "new normal", and things are definitely still constantly changing. But I am blessed with fantastic coworkers to help me with anything I need! That's what helps the most. My managers and coworkers rock, and I'm super thankful that we all work so well as a team!
---

Allie Moffo '17
Walsh University has provided their nurses with the best education to help them succeed in times such as this. I appreciate all the support and care this university has provided me. I can't wait to attend as an Alumni to start my Family Nurse Practitioner Doctorate Degree! Stay safe and healthy.
---

Tiffani Hickman '18
Our unit was shaken up by a change in routine/ very short staffing due to the coronavirus. I made this poster for our unit with pictures of all of our loved ones to boost morale. This is why we do what we do!!
---

Sydney Hobson '18
I just accepted my first travel position in Toledo, Ohio, when 2 weeks later I learned the hospital was flipping the entire heart and vascular center into the COVID hospital, 2 ICU floors and 1 step down. About a 1 week later I got placed on the COVID icu, participating in team nursing, one ICU nurse with two stepdown nurses for 6 ICU patients. At first I was scared, the unknown scared me, I was scared of bringing it home to my family and getting it myself. But shortly my fear changed to motivation, these are very sick patients and they are lonely. They have to go through all of this basically by themselves. But they see us nurses, and we become their constant support through this trying time. Especially the ones who are intubated. They can't get on their cell phone and call family, since no one is allowed to visit, so when I'm there, I try to take a moment and hold their hand, brush their hair, talk to them about the outside world and tell them to keep fighting and that their family called and loves them.
Someone has to do this job and I'm glad I get to play a part in this dark time to help fight along with these patients.
This experience also makes me realize how much of certain parts of nursing I've taken for granted. Like being able to walk into my patients room and talk to them for moment, being able to go back into the room if I forgot something or fixing the IV pump without having to put on PPE head to toe. It becomes exhausting. The day I don't have to wear a mask and I can actually let my patient see my smiling face will be such an amazing day.
So far the most rewarding thing through all of this is witnessing your patient who was on the ventilator for almost 3 weeks and didn't think was going to make it, gets extubated and when you come into work they give you a smile and a thumbs up.
I am also blessed and thankful for all the support and outreach from my family, friends and community during this hard time.
Thanks Walsh for preparing me and giving me the opportunity to be who I am today.
---

Brenna Alley '19
Walsh Class of 2019 BSN! Brenna is a PICU nurse at Rainbow Babies and Children's Hospital in Cleveland, OH.
---

Nicole Cramer '19
My name is Nicole Cramer and I graduated in the class of 2019. I work on a neuro med surg unit that has recently been converted to a COVID rule out unit. These times have been challenging, but my coworkers, family, patients, and the community have assisted me throughout this journey. Being able to hear your patients say "you have changed my life" and "thank you for being my family when I can't see my own" has gotten me through countless shifts. I want to personally thank the community of Northeast Ohio for donating meals and gear to our hospital. This storm will pass, we all need to just do our part. Keep rocking Ohio!
---

Hannah Davis '19
I graduated December 2019, so two months into orientation at my new job at Summa Akron City Hospital in the Heart & Lung ICU, the pandemic hit and it was game on! Anxiety and fear as a new grad in an ICU is already at an all time high, but the added stress of the virus is a lot. I am SO thankful for the team of nurses I am apart of because they are so supportive and positive! Forever grateful for my education from Walsh and will continue making them proud as a nurse!
---

Alyssa Johnson '19
Walsh grad 2019 - now critical care Step down ! What a whirlwind of a first year of nursing it has been. Thanks Walsh nursing professors for preparing me 💕 (minus my goggles)
---

Shawn Zubek '19
Class of 2019! On the designated COVID floor at MetroHealth in Cleveland! Was nervous and frightened like everyone else once this began but the incredible staff at Walsh prepared me for all situations and I still recall proper donning and doffing procedures during nursing school!
---

Lexie Smith '20
Class of 2020! I graduated with my BSN. The floor I accepted a position on earlier this year ended up becoming the COVID floor, I currently work as a tech on the floor until I start the end of this month as an RN
---

Ashley Bonnot
---

Rachel Wilson