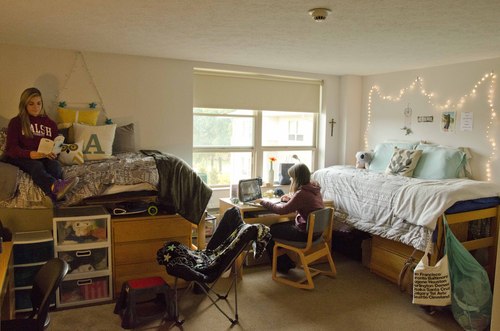 Olivieri Towers, a gift made possible by Fred Olivieri & Family, is a four-story residence hall that offers single-room, double-room, and suite style accommodations for upperclassman students.
Olivieri Towers has secure swipe entry and a house phone at each main entrance. Only students living in the building will be able to access the front doors with their student ID card. Non-residents, including guests, are required to be escorted at all times within the building by the student host.
 All bedrooms come equipped with:
Large wardrobes
Standard twin-size mattresses
Bunk-beds, 3-drawer dressers
Desks
Suites also contain:
Refrigerator
Microwave
Air-conditioning
Co-ed: No. Male and Female residents are separated by wing or floor.
Meal plan: Full meal plan required.
Alcohol Permitted: Yes, to students 21 or over.
Students living in Olivieri Towers also enjoy:
High-speed internet access with Wi-Fi
Community Laundry Rooms
Computer Lab
Fitness Center
Quiet-study rooms
Chapel
Vending machines
Living on campus provides students with convenience, as well as many opportunities to experience campus life first hand. Olivieri Towers is the perfect place to create your final college memories with your fellow upperclassmen!
View housing rates for Olivieri Towers.