Class of 2019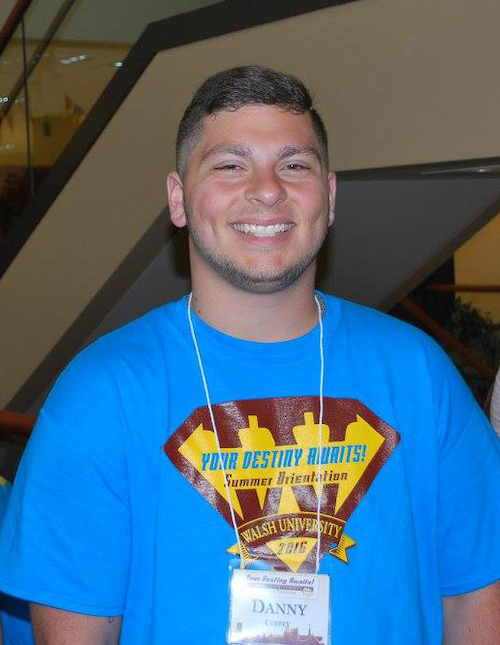 As a freshman at Walsh, I remember how supportive the upperclassmen were and I noticed their impact on the people around them. They led with so much energy and charisma, and inspired others to do good. I admired those people who were in leadership positions on campus and wanted to be like them. So I took what they gave me and I reciprocated it.
My first two years I was more reserved, but as I joined different groups on campus and got involved it helped me break out of my shell. I joined the University Programming Board and Black Student Union. I became a member of the Agape Leadership team, an Orientation Leader, a tutor in the Academic Support Center and a Resident Assistant. My main goal was becoming a beacon of hope to show others the good in the world.
I wanted to broaden my perspective in college, and I found that possible at Walsh. My majors in Government and Foreign Affairs and International Relations complement each other well. For me specifically, they have helped me discover how I can use my God-given talents to make an impact on the world. I feel like there is a much deeper impact that my major has. When I graduate, I would love to do some kind of service work, or mission work, and that is where my heart lies. It's for the people. I want to do work where I am making an impact on an individual or state, a business, it doesn't matter. If I am making an impact, I am doing what I can.
Every part of my life has been affected by Walsh. It may seem clichéd, but Walsh has really made me the man that I am today. It has formulated my feelings, interactions, my faith. I felt like every part of who I am is changed. I thought that I would do the whole college experience and move on but it has really changed my life in the fact that I'm making so many new friends, trying different experiences and learning so much about myself and about the world. This is what I am supposed to be doing. I am supposed to be learning what it is to be me and what it is to be a college student. I feel like Walsh teaches you about your field of study and teaches you about yourself all at the same time.
I know I matter at Walsh because I have had the reassurance of people tell me that I matter. When I came to college, I was pretty lost, but here, I feel like my purpose is eminent of God's plan, that I am here for a reason, that I am worthy of feeling loved and loving people. The people here, professors, students, even facilities staff like John Buckner, and the food service staff like Debbie at the Grille, they make you feel like you are worthy, they want to know how your day is going, they want to make you smile, and that uplifting spirit always reminds me that I am worth it. And we are all worthy of this. Regardless of what our backgrounds are, regardless of what we bring to the table in the very moment, regardless of what we have done in our lives, we are all worthy of love, of feeling a sense of being accepted. It took me some time, but Walsh really helped me to realize this and make me into who I am today.