Walsh University continues work to address the issue of human dignity and racism. Between focus groups and prior informal campus meetings with various student groups to discuss this topic, many great ideas have been offered and several emerging themes have been identified.
Thank you to the students, faculty, and staff who have participated thus far in the focus groups to discuss these issues. A very special thank you as well to the facilitators, Director of Multicultural Affairs Carrilyn Long and Professor of Sociology Dr. Michelle Bemiller.
The consistent themes relate to the collective desire for: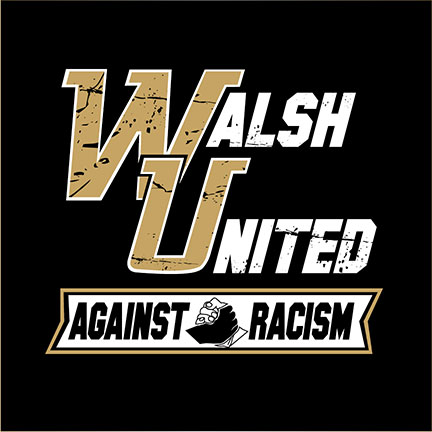 Increased campus wide awareness and education opportunities on these issues
Increased messaging by the university
Logo/Visuals that support our efforts against racism
Intentional opportunities to continue the dialogue/conversation on these issues
Increased involvement of minority students, faculty, staff and alumni
Although we expect this to be a long term process of discovery, education, healing, and renewal, the University would like to take immediate steps as a result of the input we've received to date and launch the
Walsh University Stands United Against Racism
commitment. Verbally committing ourselves to this cause reinforced by a visual that reminds us of our stance is a critical component of our efforts. 
Based on student input, the above design will be placed on posters throughout campus as well as FREE t-shirts that are being passed out to students, faculty and staff.
We are inviting Cav Nation to wear their shirts as a show of support for this commitment on Friday, November 13.