Walsh University's Chemical Dependency Counseling Certificate Program provides training for mental health counseling professionals and students who seek licensure in the chemical dependency counseling profession. This certificate program is endorsed by the Ohio Chemical Dependency Professionals Board.
According to a recent study, the United States experienced 70,237 drug overdose deaths in 2017. Ohio has one of the highest rates of death due to drug overdose (46.3 per 100,000), surpassed only by West Virginia. The Center for Disease Control and Prevention includes Ohio in the list of states with statistically significant increases in drug overdose death rates from 2016 to 2017. Overdoses from opioids like heroin, fentanyl and carfentanil continue to rise. This increase in drug use and overdose leaves Ohioans in desperate need of treatment providers.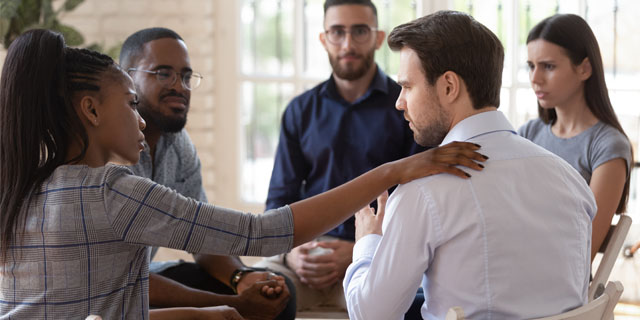 Frequently Asked Questions
What licensure will I be eligible for upon completion of the certificate?
If you already possess a master's degree in counseling, completing the chemical dependency training certificate will prepare you to apply for your independent license under the Ohio Chemical Dependency Professionals Board (see licensure training requirements here). Individuals interested in obtaining the chemical dependency training certificate are responsible for reviewing licensure guidelines and directing questions about their current qualifications to the Ohio Chemical Dependency Professionals Board.

What if I'm not seeking a license and only want addictions training?
Individuals interested in addictions training are welcome to complete the chemical dependency training certificate. They should be aware that completion of the certificate alone does not qualify one to advertise as holding competence in chemical dependency treatment.

Who should consider completing the chemical dependency training certificate?
Individuals who work with patients or clients struggling with chemical dependency such as health professionals (e.g., nurses, occupational therapists, physical therapists) and mental health professionals (e.g., counselors, social workers, case managers). Given the high prevalence of chemical dependency concerns in the United States and specifically Ohio, it is imperative that individuals working with the general public in helping professions are aware of the warning signs, progression of chemical dependency, and available treatment to address chemical dependency. Individuals who may need to provide referrals to chemical dependency treatment will find the courses helpful in making informed decisions as well as helping clients/patients increase motivation to complete treatment.

What knowledge of addictions should I have before enrolling in chemical dependency training courses?
Individuals interested in completing the three course sequence (i.e., Theory & Practice in Addictions Counseling, Diagnosis & Treatment Planning, and Evidence-based Practices) should have a basic knowledge of addictions gained from completing an addictions counseling course in one's bachelor or master's degree program. If an individual has not completed a general addictions counseling course or its equivalent (as defined by the Ohio Chemical Dependency Professionals Board), then the individual may consider enrolling in the Addictions Counseling course offered at Walsh University each Fall and Summer semester.