Sherry Bossart - Coach, Athletic Business Manager 1971-2011
Sherry Bossart spent more than 40 years at Walsh where she coached the men's tennis program for 31 years and women's team 26 years. Bossart compiled 620 career coaching wins, 27 championships and coached countless NAIA Scholar-Athletes. Along with her role as head tennis coach, Sherry also served Athletic Business Manager until 2011.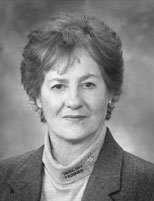 Every Friday we had a tradition. Golf Coach Brother James Lacasse and I would meet for lunch for one hour to talk about recent events, including comparing notes on the students we were recruiting for our respective sports, tennis and golf. Often times, our Friday lunches were spent comparing notes about the difficulties we faced with securing the commitment of potential Walsh athletes.
One Friday when we met for lunch, Brother Lacasse declared that on this particular day, our lunch would be one of celebration. Brother had successfully recruited an athlete that he had been wooing for weeks. The young man had finally committed to Walsh and would be a freshman member of the golf team.
I was thrilled for my friend's success, but a little dejected at the same time. I had also been trying to secure the commitment of a talented tennis athlete, but with no success. In light of Bro. Lacasses's recruitment victory, I decided to call the young man one last time, to see if I could convince him to choose Walsh. 
To my surprise, the high school senior declared that he had indeed chosen a school to attend and play for in the fall. I talked to the young man a few more minutes and then found the courage to ask what school he had chosen.
"Well, I will be attending Walsh," he said.
I was stunned for a moment and then it all became crystal clear. Both Bro. Lacasse and I had spent the last several weeks recruiting the SAME student. That student was Tim Thompson (1994-97). And although he came to Walsh as a member of the golf team under the tutelage of Bro. Lacasse, he did eventually end up playing on the tennis team. A 2010 inductee to the Walsh Wall of Fame, Thompson lettered three times for the Cavaliers and became the first player to win conference tournament championships in singles and doubles his senior year.