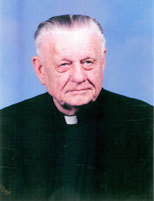 Harold Ziegler - Friend of Walsh
Several years ago I received a distressing phone call from my good friend Bud in Detroit, Michigan. He was calling to tell me my Goddaughter Molly, who was about 20 years old, was suddenly having serious mental problems and they didn't know where to turn. Her parents were willing to pay whatever it would take to get her help, but after an exhausting search, they found that no doctor, no medication, no treatment, not even the experts at the Mayo Clinic could figure out what was wrong with her. She was a danger to herself and others and the family was coping with the crushing reality that they may have to institutionalize their dearly loved daughter to keep her safe.
I hung up the phone and immediately called my good friend Father Matthew Herttna for comfort and prayers. He listened calmly and told me "Harold, let's enroll her here in Massillon, at Heartland, near St. Dymphna." St. Dymphna is the patron saint of those suffering for nervous and mental afflictions. The only United States shrine in her honor is located in Massillon on the grounds of the Heartland Behavioral Healthcare Hospital where Father Herttna was the Shrine Director and Chaplain.
From that moment on, Molly started to show improvement. Her recovery began almost immediately when Father Herttna began praying to St. Dymphna for her. Her progress continued steadily and eventually she was able to return to school for her degree. She was never institutionalized. Years later, at my mother's funeral, Molly and Father Herttna were finally able to meet in person. It was a tearful meeting for them both and I remember as they hugged, Molly told him "if it hadn't been for your prayers, I don't know where I'd be today."
Father Matthew Herttna was a humble man and one of my dearest friends. I met him years ago as my teacher at St. Peters Catholic School in Canton and even served his masses as an altar boy when I was 9 years old. When he died, I was surprised to find out I had been named a trustee of his estate. I could think of no better way to honor my good friend than by carrying on his earthly work of helping those in need counseling.
These days when I visit the Walsh campus, I feel comforted knowing the life of my good friend will be remembered for generations to come through the new Father Matthew Herttna Counseling Center. To be honest, I think it would've embarrassed him to see his name on a building. But I'm sure he would be pleased that so many people will find comfort through the counseling center and his beloved St. Dymphna. Her statue stands in the lobby as a reminder to all those that see her to have faith, because, as Father Herttna showed me, miracles do happen every day.