Registration Coming Soon!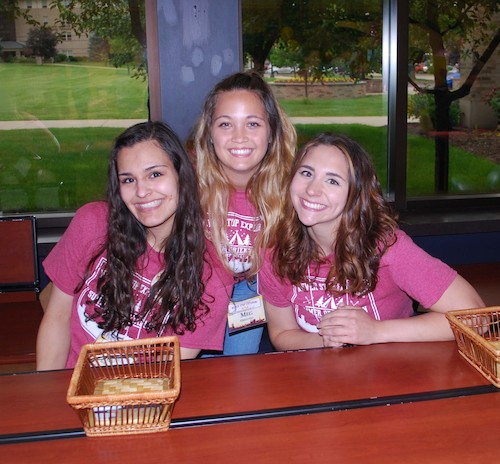 Welcome to Walsh University! We're so glad that you're joining the Cavalier community. Making the transition from high school to college can be challenging, but don't fret - we'll be here to assist you every step of the way! Freshman Orientation at Walsh University is a multifaceted experience designed to help you connect to the people, places and things that will contribute to your success throughout your college journey. Your orientation experience includes: 
Cavalier Connections
Maroon & Gold Student Mentors
Welcome Weekend
The First Year Institute "F.Y.I." and CAVS CORE
We look forward to beginning this journey with you! Check-out the First Year Student Checklistfor more information on how best to prepare for your first semester at Walsh University. 
Your Freshman Orientation experience begins with attending a Cavalier Connection summer session. Cavalier Connection is your chance to connect with Walsh students, faculty and staff. You will be able to participate in a variety of interactive sessions which will provide important information about the programs and services offered to assist you throughout your journey at Walsh. You'll meet your Professional Advisor, receive your Fall semester course schedule, connect with your Maroon & Gold Student Mentor, and engage with future classmates.
Since Cavalier Connections provide critical information integral to your success start at Walsh University, attendance is required. 
Please Note:Students being accompanied by a parent should complete both registrations at the same time. 
2020 Freshman Cavalier Connection Dates:
Friday, June 12
Friday, June 26
Friday, July 10
Friday, July 24 
At Walsh University, we strive to ensure that as a new student you feel supported, connected and engaged throughout the summer months leading up to and into the start of your first academic semester. As a new member of our community, you will be matched with an upperclassman mentor. You'll meet your mentor at your Cavalier Connection session and you'll be able to remain in touch with them throughout the summer as you prepare for your arrival to Walsh University in the month of August.
The Fall semester officially kicks-off the weekend prior to the start of classes. Walsh University's Welcome Weekend is specifically designed to help our Freshman students learn about all the exciting opportunities and important responsibilities of being a member of the Cavalier Community. Welcome Weekend events are required for all Freshman students. Stay tuned for more information!
As you begin your first semester at Walsh University, our goal is to provide knowledge and experiences that will help your transition to college life, college-level expectations, and connect to campus resources. All new Freshman students are enrolled in our First Year Institute (FYI) or CAVS CORE Learning Community. These courses are designed to help you learn about resources on Walsh's campus, opportunities for involvement, time management, goal setting, and critical thinking as well as many other topics essential to your success as a first year college student.