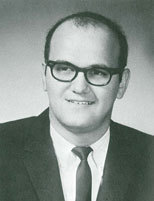 Ron D'Amore - Class of 1968
One day I was in my family doctor's office for a checkup and he started asking me a lot of questions about where I wanted to go to school and what my plans were for the future. I told him that because my dad had been very sick, and he was in and out of hospitals all year, my parents couldn't afford to send me to college this year.
Dr. Earnest Panasci told me he was affiliated with the Brothers of Christian Instruction, who taught his four sons at Mount Assumption high school and were starting a college in a place called North Canton, Ohio. Dr. Panasci told me that if I applied to this new school (Walsh College) and got accepted he would pay for my first year's tuition and room and board. Well I applied, got accepted and managed to graduate time.
I had applied to Walsh College sight unseen, so when I saw the campus for the first time I was shocked. The campus consisted of two buildings sitting in the middle of a huge, empty field. But after meeting some of the new students, I decided to give it a try. Besides, I had promised Dr. Panasci that I would make his investment in me worth his time and money.
I lived in a house owned by an elderly lady named Marie Schrantz with three other students on Cole Avenue in North Canton. It was actually a lot of fun because there were four students in the house, creating a dorm-type atmosphere. We were lucky that one of the students had a car, so we were able to easily get to school and around town. Weekends were usually a lot of fun. I became friends with several local students. We would go to a lot of sporting events, especially high school football (which was some of the best football around at that time) and I got to meet a lot of new people at the local dances. We also had several intramural sports, which filled a Saturday or Sunday afternoon. One of of my fondest memories involves the card game Euchre. Almost every day during our lunch break a group of guys got together and played cards for an hour or so, drank a lot of coffee and told a lot of stories about our hometowns.
Walsh had many great teachers when I was in school, but I think my favorite was Ed Bendekgey. He was my accounting teacher. He always made the class interesting because not only did he teach the course, he also had his own accounting business, so he was always tying real-life circumstances to the classroom theory.
During my junior year, I married my high school sweetheart, Fran, who left Boston College to be with me at Walsh. I think some of our greatest times at Walsh were those we spent with some of the other married couples at school. We had great times just getting together on weekends at each other's apartments to play cards or Monopoly, or just to watch some TV. Some of these friendships we will have for the rest of our lives.
I miss the people that I got to meet and make friends with over the four years I was at Walsh. I would tell new students to have a lot of fun while you are in school, but remember that your parents are spending a lot of money to put you through college, so work hard at your studies and make every penny invested in you count.
Ron currently lives in Rome, New York, where he is owner of Ace Hardware of Rome. He was honored as one of Walsh University's 2010 Outstanding Alumni during the Outstanding Alumni Brunch in September.