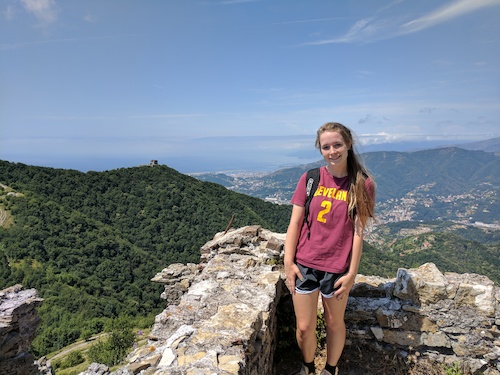 Class of 2019
I have two main passions in life: travel and medicine. Thankfully, being a Walsh University student allows me to pursue both. Although I've had several opportunities to shadow at hospitals in Ohio, during my sophomore year I began investigating ways I could intern at a hospital abroad.
I saw a flyer hanging up in one of my classrooms for an internship program in Genova, Italy, that I just knew was the one for me, and I went for it. After the application and interview process, I was selected as one of 13 students from across the United States for this opportunity in spring 2017.
I had never been out of the country before, and the next thing I knew I was boarding an airplane to Italy, ready to experience healthcare in a whole new way. My internship was at Ospedale San Martino, which is the No. 1 teaching hospital in Europe. There were students at the hospital from all over Europe, Asia, Latin America and the United States. It really touched upon the idea that medicine is universal. While not everyone could understand the language, we could all relate on wanting to help our patients get well again.
During my internship I shadowed doctors in general surgery, orthopedic surgery and vascular surgery, as well as oncology and hematology. The terrorist attack in Manchester happened while I was there, and we actually had people flown into our hospital who had been trampled and hurt. I saw different broken legs and arms in surgery then. It was amazing to be in such an important hospital and learn all that I did from my different rotations.
The dynamic is so different there. When I have shadowed at hospitals at home in Columbus I have usually been in the back, which I completely understand is part of the protocol. But in Italy, the first day they got me a stool to stand on so that I could see the surgery and they explained to me everything that they were doing. It was crazy to be that close and get to learn so much.
In addition to the medical knowledge I gained, traveling has helped me gain an appreciation for global healthcare.
My Walsh experiences really gave me an advantage in securing this internship. I've been involved as Vice President of Pre-PA club, a member of the Honors Program, a tutor in the Academic Support Center, and involved in Dance Marathon, Campus Ambassadors, Orientation Leader, and Cavs Crew, not to mention various research opportunities with faculty.
Walsh has taught me to be passionate about what I want to do, to be disciplined in my profession, and it has really helped to give me a holistic education. The amount of support I get from my advisors and professors has shaped me into the person that I am and kept me on the track that I want to be on and opening me up to a new world of possibilities.
Walsh has been awesome. I absolutely made the right choice.