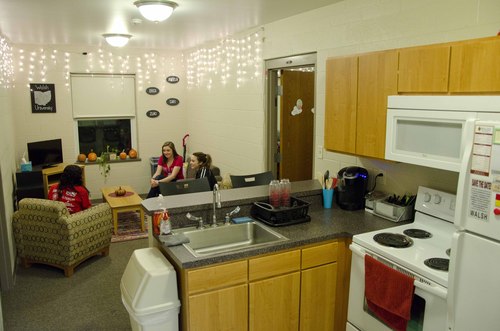 Walsh University's newest residence hall, "The Commons" is a 29,000-square-foot building connected to Lemmon Hall.
The Commons offer apartment-style suites, for students who desire the feel of apartment living along with the convenience of living on campus.
Security: Entry in The Commons is gained by secure swipe access using your student ID card. Only students from your building will be able to enter the front doors. Any guests must be escorted at all times.
Layout:
2 Double bedrooms
Living room
Private bathroom
Kitchenette with refrigerator and oven
Each room comes furnished with:

Bunk beds
Standard twin mattresses
2 Four-drawer dressers
2 Desks
Built-in closets
Carpeted: Yes
Co-ed: No. Male and Female residents are separated by wing or floor.
Meal plan: Limited or Full
Alcohol Permitted: Yes, to students 21 and over.
Students living in The Commons also enjoy:
High-speed internet access with Wi-Fi
Two classrooms
Computer lab
Quiet study rooms
Laundry facilities
If The Commons sounds like the right fit for you, consider the many advantages to campus life. Living on campus provides easy access to classes, while making it easier to meet new people and build life-long relationships. Make your college experience a memorable one!
View housing rates for The Commons.