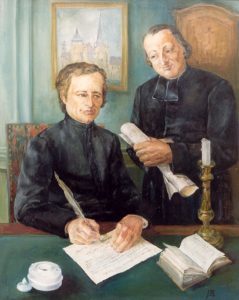 On June 16, 1819, Jean Marie de la Mennais, vicar of Saint-Brieuc, and Gabriel Deshayes, pastor at Auray and vicar general of Vannes, formed the Brothers of Christian Instruction by signing a treaty uniting their efforts to educate the working class in impoverished France. They vowed to carry the message of the gospel and the rudiments of knowledge to every child in need throughout the region and received Catholic papal approval in 1890. The congregation of the Brothers of Christian Instruction grew rapidly, soon extending their mission into Bulgaria, Turkey, Egypt, Spain, England, Canada, and The United States.
Today, the Brothers of Christian Instruction, who number more than 1,300 in 25 countries, live out their commitment to providing a values-based Catholic education to all who seek it. To this day, Walsh University is proud that nearly 50% of our students are the first in their families to attend college. The Brothers hope to continue on their nearly 200-year-old mission of teaching students to become leaders in service to others.
Throughout Walsh's history, the Brothers have played an active role in the prosperity of the University, serving as faculty during the original years and playing an integral part in the growth and development of our facilities and programs. Several have served as President. They vow to continue their involvement in the years to come.
Related Links
Mennaisian Family 
Core Values of 

Mennaisian

 Spirituality at Walsh University
In Fall of 2018 Walsh University will kick off a Mennaisian Familygroup on campus. We will focus on the characteristics FIC  spirituality expressed at Walsh University:
Missionary Zeal:  "Bring glad tidings to the Poor" (Luke 4:18)
Salvation Through Education: Formation of the whole person to make a difference in the world - transformative joyful presence to all
Simplicity in Community
Elpis Et Pistis - Hope and Faith