Paul Wells - Class of 1997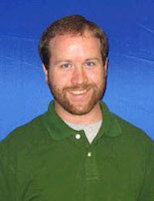 I have a number of great stories about Walsh University. In addition to providing me an education and a career (including my first job after college), Walsh has also supplied an education to my sister Erin, my brother Ted, and my brother-in-law Ryan Rish as well. The friends and colleagues that I have been fortunate enough to acquire through this institution are ones that will last me a lifetime. In addition to all of this, Walsh University also provided me my first mentor. This gentleman was a friend to tens of thousands of individuals throughout his life, and is one of the most popular names often referenced when Walsh former students/faculty/staff recount their fond memories of this wonderful place.
Br. Charles St. James, affectionately known to many simply as "BC", was the kindest soul that I and numerous others ever had the opportunity to befriend at Walsh University. Always present in the Peace Park or the student center, Charlie would often be found welcoming a new student or family to the campus or lending an ear to a troubled student seeking advice for a difficult situation he or she was experiencing. His impact on this institution continues to resonate to this day, and will do so for many years to come. When I share stories with a fellow Walsh alum of my experiences here, his name is inevitably one of the first that is often mentioned by them.
Whether it be while introducing himself to hometown friends of mine during a visit to campus in the midst of a National Parkinson Foundation fundraiser, joking with a member of the Walsh community, conversing with a fellow traveler (typically a complete stranger) in an airport, or chatting up a server at one of the numerous restaurants in North Canton, BC was able to capture the attention of any audience. While my career at Walsh would eventually provide me other great mentors like John Latchic ("the Senator"), Nate Cooks, Koop Berry, and my roommate Joe Moore, Brother Charlie was the first.
Charlie passed away nearly four years ago, leaving us just a bit too soon. He always left you wanting more - that was part of his charm. He was also known for a collection of profound (and often witty) quotes. In my experience, one of the most popular of these was: "People want to be remembered." Charlie, we remember you.