Class of 2020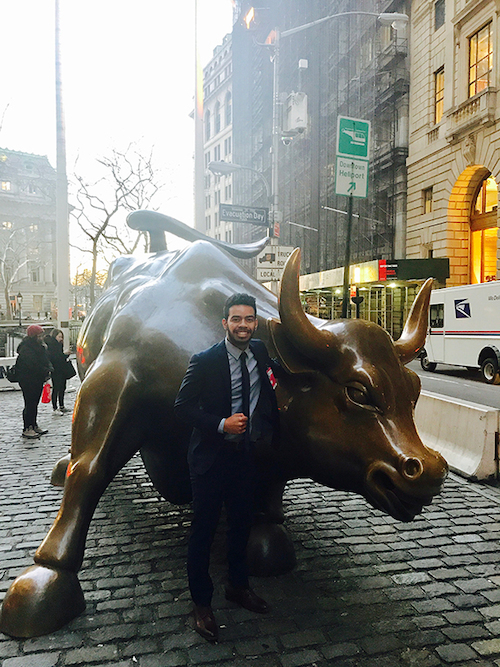 My time at Walsh has been interesting to say the least. I never imagined I would change my major, be co-president of an organization, write a book, get a job doing something I love, and all while being a full time student. I came to Walsh to prepare for Physical Therapy school and run track, and now I am doing so much more.
When I started getting involved at The Garage, I realized that Physical Therapy was not my passion, but personal finance and financial literacy is. I changed my major, which for many can seem like a crazy step, but for me, I knew it was right.
I dove head first into my new major and became more involved in the business community at Walsh. Now I am co-president of The Garage, have traveled to New York City with the Student Managed Investment Portfolio, and so much more. In high school I was less involved. I predominantly just played sports. Getting to be involved in different things in college and to grow in different ways has been incredible. I am a lot happier with who I am today than who I have been.
I even wrote a book, something I never imagined I would do. Spring semester of my freshman year I was sitting in a classroom in the Barrette Center studying and I had some personal finance videos playing in the background when the idea hit me. I started doing some research on all of the personal finance books available, but they were all missing something. A lot of the principles taught in these books were too challenging to implement as a college student. I realized that I couldn't find a book written by someone in college for college students. With the encouragement of my professors I wrote "Early Money, A Guide to Financial Independence for College Students."
I was able to take what I had learned writing my book and transition it to Walsh's Leaders in Social Justice, a scholarship program designed to foster change-makers in the community and leaders in service to others. Through the program, I have had the opportunity to study my passion, financial literacy, with members of my cohort.
Now I'm getting ready to write a proposal to the Ohio Education Board on why financial literacy needs to be implemented in high schools. Through my research, I realize how fortunate myself and the people around me are. I love that through Leaders, we are able explore our passions and work to create change on them.
Through my involvement with Walsh's Leaders program, I have been introduced to incredible people. Abby Poeske, the director of my Leaders program, was meeting with Scott Glasgow, the Founder of FinMango, a nonprofit dedicated to eliminating financial illiteracy from the planet, to establish a community partnership. She sent me a text to see if I could come meet Scott. I went and we hit it off. We got coffee again the next week, and he offered me a position with the organization and since then I have been working with them, teaching financial literacy. Three weeks after I joined the company, I went with them to Harvard for a financial inclusion conference. It was incredible to be able to meet some of the brightest minds in the industry.
Walsh has truly been an incredible place for me to grow. Doors have opened up for me here that I do not think would have opened had I went to another university. At Walsh, they aim to celebrate your passions and help you to pursue them in whatever way you want to. I am blessed here with the amazing faculty, staff, and students that I have gotten to know, and cannot wait to see what is in store for the rest of my Walsh journey.