Class of 2020
At the end of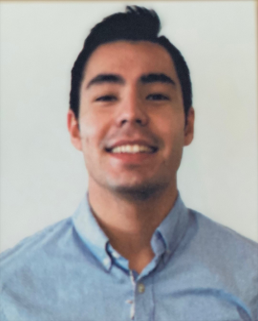 my junior year in high school, my youth minister gave me a copy of the Newman Guide, because he knew I was looking for a Catholic college. As I was flipping through the pages, I saw Walsh and found out that they had just added an Exercise Science major, which I was interested in. I filled out the early application and was really excited to come and play football, as the coaches had reached out to recruit me. As I kept weighing my options my senior year, I was nervous to leave everything I knew at home in California to come out to Ohio. I decided to go to a school close to home and played football there for my first year. I ended up getting a career-ending football injury and dropping out for the semester because I knew that the school wasn't the right fit for me. During my recovery process, I got a call from my Walsh admissions counselor and I knew it was a sign that I should come here. So I packed up my bags, took a chance, and came to Walsh for the spring semester.
The first few weeks were tough. It was the first time I had been so far away from my family for so long, and I was a bit homesick. I was really lucky though- when I was moving in, another student and her family helped me because I was all by myself. That weekend, she and her friends invited me to dinner with them and that really helped Walsh feel like home. I even was welcomed by those that work in the Dining Hall. Pam at the sandwich station knew that I was out of state and knew that I wasn't going home for the holiday and she invited me to her house. While I ended up going with my roommate, I felt so blessed to know that there are so many people looking out for me. Because of interactions like this, I have felt really welcomed to campus. Being out of state is not easy, but the friendships that I have made here have helped it to feel like home.
As a mid-year transfer student, I was a bit worried about making friends. I started going to different Campus Ministry events where I met a lot of friends and became involved in Campus Ministry Club, which I am now the Treasurer of and The Brotherhood. The Agape Retreat has been one of the things that impacted my faith the most. It challenged me to grow and make my faith my own. It also really helped me to continue to meet people and hear their stories. It helped me to bond with not only those in my class but everyone on campus.
When I chose Exercise Science as a major, I had thought that I would continue onto Physical Therapy School. However, after shadowing police officers back home, I decided that what I am really called for is to be a police officer. And specifically, I hope someday to work with the human trafficking unit. My major might be nontraditional for a police officer, but it is a major I really enjoy and all of the different classes I am taking here at Walsh are helping to prepare me for my future. Recently in one of my Forensics classes, we had a detective come to talk about human trafficking cases, relating directly to what I want to do when I graduate. My advisor is an Exercise Science professor, but he has gone out of his way to look up different opportunities for me to work with the police around the area, or to connect different lessons in the classroom to real-life applications and things I might learn in the Police Academy.
This summer I am going to continue on my path toward becoming a police officer by serving as a VIPS Officer (Volunteer in Police Service). With that, I will go through 25 hours at the Police Academy and be cleared to help the police officers and detectives with anything they need. When I am on duty I will get a patrol vehicle and be in charge of surveillance and missing persons. I will be one of the first people out looking for missing children or suspects. I become the eyes and ears of the police officer. Even though I cannot engage, I can help them to locate people. It was not an easy interview process, but I am really excited to begin and get my badge in May.
After I graduate I will apply for the Police Academy and hope to start working as a police officer as soon as I can. I will work to live out everything I have learned here at Walsh, the lectures in the classroom, lessons in servant leadership, strengthening in my faith and the talks from my friends, in whatever way, small or big that I can. Though I was nervous to make the move from California to Ohio, I am so glad that I took that chance to come to Walsh. It is something I haven't regretted at all. I have met some of the most amazing people here and truly felt a part of the family.