Class of 2018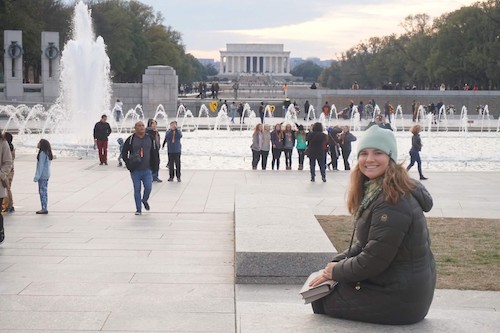 Being involved in the Brother Francis Blouin Global Scholars program at Walsh University has impacted every aspect of my life, and yet I wasn't even aware of the program before I chose to attend Walsh. Now I can't imagine my life without it.
From the moment I joined the Blouin Scholars, it became the center of my Walsh universe - in the best way possible. From my choice of classes to my extracurricular activities, the program has influenced it all. As soon as I took my first moral philosophy class freshman year with Dr. Whetstine, I knew I had found my passion. As a result, I made one of the best decisions of my life: changing my major from Physical Therapy to Philosophy.
For the past four years, my cohort has studied Genocide, Justice and Reconciliation. During sophomore year, we traveled to Uganda to study the consequences of the mass atrocities there. More recently, we spent time in Europe, at Walsh's campus just outside of Rome, in the Netherlands visiting the International Criminal Court in the Hague, and in Poland witnessing the effects of the Holocaust in Auschwitz-Birkenau.
By far, one of the most impactful experiences through the program was a meeting with Ugandan cultural leaders. Though they often meet with hundreds of individuals a day, the leaders said their meeting with us was the most important because as we had the ability to go back to the United States and share their story. That resonated with all of us. We left feeling that incredible duty. We were among a select handful of people who have had these experiences, and we need to share them with the rest of the world.
As a result, I helped organize a fundraiser for the Acholi people in Northern Uganda when I returned to campus. We brought alt-pop band Foreign Figures to campus for a concert fundraiser, and together with a GoFundMe page, we managed to raise thousands of dollars for the University of Sacred Heart in Gulu.
Beyond my academic and travel experiences, the people I have met at Walsh have become more than my peers and professors. They are family. Their accomplishments motivate me to pursue my own dreams. Like many 20-somethings, my dreams and plans have changed multiple times, but I'm thankful to have had tremendous support every step of the way. Best of all, I know that support will last far beyond my time at Walsh, which is incredibly comforting.
I came to Walsh as a Physical Therapy major, and now I'm preparing to leave with a degree in Philosophy and minors in Peace Studies and Psychology. More than that, I'll take with me invaluable global experiences, a deep desire to foster peace and lifelong friendships - none of which would be possible without Walsh University and the Blouin Global Scholars Program.