Class of 2019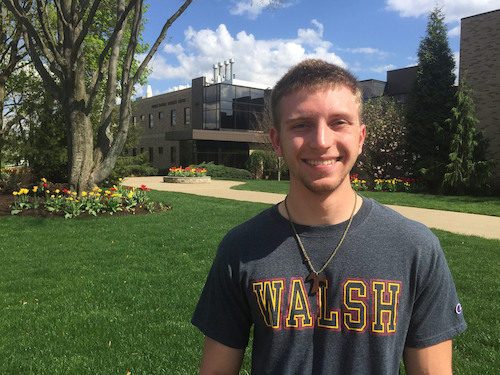 When I was in high school, I was hesitant to take advantage of new opportunities that came my way, but once at Walsh, I found it easy to get involved and meet new people. My freshman year, I began to sign up for different clubs and activities around campus and pretty soon I started to find my place.
The family atmosphere on campus makes Walsh so unique. It's hard to walk from one building to another without seeing at least two or three people that you know and say hi to them. Whenever there is a group of students playing Ultimate Frisbee on the Grassy Knoll I know that I am always invited to join. The professors are so nice and they really care about their students. I know a lot of universities say that, but I can tell you it is true at Walsh. I can walk into any of their offices at any point and have them drop whatever they are doing if I have questions, or if I just need to talk.
Walsh has led me to be a part of awesome student organizations including Science Club and Student Alumni Association. Being a part of the Brotherhood and ministry programs has really helped me to grow in my faith. As a Resident Assistant I have learned a lot about responsibility and time management and how to interact with different people.
I'm also involved in the Blouin Global Scholars Program. Being a Blouin is the reason I came to Walsh in the first place. As a Blouin I am a part of a cohort studying technology, entrepreneurship and society. My cohort traveled to Gulu, Uganda, in 2016 and this summer we will be heading to Rome for six weeks to explore our topic there. The Blouin Program has taught me to be a lot more open minded about different cultures and to be open to different experiences. I've gotten to learn a lot about different world problems that I didn't know about previously. It has taught me to care about people I have just met, to listen to their stories and put myself in their shoes. I am really appreciative for all the chances I have had because of the program.
Walsh has also taught me how to study and how to make academics the focus of my life. It has helped me realize what is important to me to define my goals for the future, and find a way to achieve these goals.
Ultimately, after graduation I want to go to veterinary school and become a wildlife veterinarian. To help immerse myself in the field I interned at the Cleveland Museum of Natural History in the Wildlife Resources Department through the Kirtlandia Internship program. It was an opportunity for college students from all over the country to work in the museum and research throughout the summer. I was chosen to be the Wildlife Resources Intern and this gave me the opportunity to study many native Ohio animals in the Perkins Wildlife Center. I chose to focus my study on a Common Raven named Blackjack. I spent the entire summer studying him and his eating habits in addition to training him.
I know that the experiences that I have had at Walsh will set me apart from other candidates as I apply for Vet School. Walsh has definitely helped me come out of my shell and realize what it takes to excel in my education. Not many Pre-Vet majors have the opportunity to study abroad, and I will have studied abroad twice. The research I was able to do with my internship has prepared me for what to expect in the field. The different clubs and activities have helped me to learn how to be a leader on campus. I do not think that if I attended a different school I would have the same outcome. I am truly blessed to call Walsh my home.