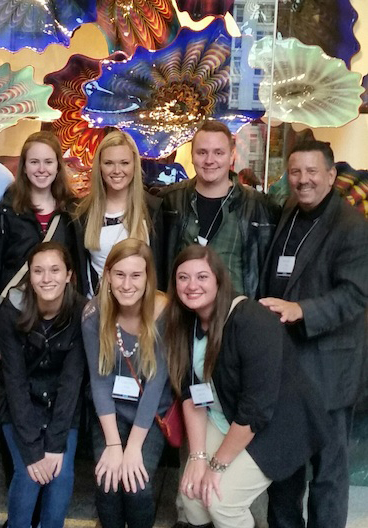 The Walsh University Honors Program is a challenging, interdisciplinary and intellectually rewarding educational experience. It is designed for students who excelled academically throughout high school, are interested in a broad range of issues and disciplines, and want to define their college years with success, leadership and intellectual growth. If this describes you, consider applying.  
Accepted Honors Students
We are so excited to have you become a part of our 2020-2021 Honors Program class! Please click the link below and fill out our online decision form regarding your acceptance into the program. If you have any questions, please feel free to give the Office of Admissions a call at 330.490.7172, or email us at honorsadmission@walsh.edu.
Walsh University - Honors Program Decision Form
Honors Program Benefits
Honors Scholarship - All honors students receive a renewable scholarship of $20,000.
Membership into the National Collegiate Council of Honors Programs - Students have the opportunity to present at national and regional conferences as well as other academic venues, both on and off campus.
Participant Opportunities- Attendance and participation in a program of colloquia, speakers and social events designed expressly for the education and entertainment of honors students.
Peer Support - Each honors student has his/her own honors mentor.
Special Recognition - "Honors Graduate Status" is noted on transcripts sent to potential employers and graduate schools.
Honors Publishing - Each student is required to complete a senior honors thesis, which will be catalogued in the Walsh library as well as on OhioLINK.
Other Benefits Include:
Early registration for classes. To ensure an optimal class schedule that is most convenient for you.
Class auditing. Sit in on classes of your interest at no extra fee.
Extended library usage. Extended borrowing privileges from the University library.
Free residency. Live on campus during the summer after your third year to work on your senior honors thesis. 
Admissions Criteria
3.75 GPA
25 ACT / 1200 SAT
Application
Interview
Honors Program Course of Study  
UNDERCLASSMEN
Freshman year (9 credits) and sophomore year (6 credits) each include:
Honors Writing (one semester)
Honors History (two semesters) The History of Christianity and The History of Science
Sophomore year 
 Honors World Literature
 Great Ideas in Humanity
Courses emphasize the connection among academic disciplines, demonstrating that knowledge in one area enhances the understanding of many others.
UPPERCLASSMEN
Junior year (9 credits) includes two additional 300-level seminars and a junior honors project.
Seminars - Interdisciplinary courses organized around a specific theme or topic
Junior Honors Project - Completed in a course of your choice. For most students, the project is associated with their field of study and has profound impact on their career paths and academic goals.
Senior year (3 or 6 credits) includes the capstone of the honors program, Honors 400, which is the final independent research project.
Senior Honors Thesis - Students conduct original research while working closely with a faculty mentor. Modeled on the research and creativity typically found in graduate school projects, Honors 400 concludes with an oral presentation as part of the final celebration with Walsh students and faculty. 
For more information about the Walsh University Honors Program, contact the Office of Admissions at (800) 362-9846 or admissions@walsh.edu.
Chris Himmelman - Class of 2018
Major: Marketing
Through my involvement with the DeVille School of Business, I landed a summer internship at American Greetings. I learned so much about the corporate culture and how to work in teams in that corporate setting. It was very rewarding. All the skills that I learned from the DeVille School of Business transferred well into my internship. Not just the curriculum I learned from a book in class but the soft skills too, like communication and work ethic. As a result, I received a full-time job offer to return to American Greetings after graduation.